Hotel Residence Marilia
Hotel Residence Marilia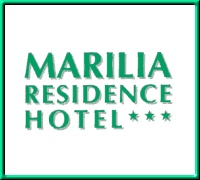 BOOKING FORM - RICHIESTA INFORMAZIONI
---
RESIDENCE HOTEL MARILIA
Ubicazione: MARILIA RESIDENCE HOTEL *** č una nuova residenza turistica alberghiera di seconda categoria ubicata in Antignano, antico borgo marinaro con grazioso porticciolo turistico, posto sulla costa tirrenica a 5km da Livorno.
MARILIA RESIDENCE HOTEL *** dista dal mare soltanto 400mt e sorge in un ampio giardino esclusivo in prossimitą di altre zone verdi dedicate allo sport, in ambiente molto tranquillo.

La Struttura: MARILIA RESIDENCE HOTEL *** si eleva per 6 piani e dispone di 102 unitą abitative, ha un interrato destinato a garages ed ai piani superiori vi sono appartamenti monolocali, bilocali,trilocali e Vip destinati alla formula Residence, e Petit Suite, Suite e Vip destinate alla formula Hotel.
Inoltre la struttura dispone di hall, reception e salone di soggiorno con servizio bar.

Appartamenti: Ogni appartamento, dotato di ampio balcone attrezzato e con vista mare, é elegantemente arredato ed é corredato di angolo di cottura in ambiente separato con frigo e lavapiatti, e dispone di ogni altro confort quali: TV color via satelite, telefono abilitato alle chiamate dirette con casella vocale (VoiceMail), rilevatori di fumo, controllo accessi antintrusione, allarme bagni, condizionamento estivo ed invernale.



---
Dove siamo:

---
MARILIA RESIDENCE HOTEL
Location: MARILIA RESIDENCE HOTEL *** is a new holiday residence of the second category located in Antignano, an ancient seamen's village with a small, delightful harbour on the Tyrrenian coast 5km south of Leghorn.
MARILIA RESIDENCE HOTEL *** is only 400mt. away from the sea and placed in a large, exclusive garden close to other green areas with sports facilities, in very quiet surrondings.

The Structure: MARILIA RESIDENCE HOTEL *** accommodates 102 flats on 6 floors, and has an underground garage.
It offers bedsitters, two- and three-bedroom flats and Vip suites, as well as a hall, reception and guest's lounge with bar service, swimming-pool.

Flats: Each flat has a large balcony overlooking the sea, is elegantly furnished and offers cooking facilities in a separate room complete with refrigerator and dish-washer.
Upper floors offer a full range of comforts, such as: satellite colour TV, telephone with direct outside call and VoiceMail box, smoke detectors, access doors surveillance against burglary, alarm bell in the bathroom, air conditioning for winter and summertime.



---
Where we are:

Hotel Residence Marilia
Via Urano Sarti - Antignano, Livorno, LI, Italy
Tel. +39 0586877777
Fax. +39 0586877677
Contact: marilia@tin.it
vedi anche: http://www.mariliaresidence.it/