Hotel Rosa
Hotel Rosa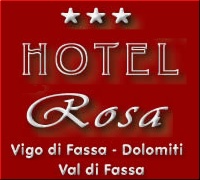 BOOKING FORM - RICHIESTA PRENOTAZIONE
---
HOTEL ROSA
Ubicazione: Vigo di Fassa (1396 m) e l'incantevole panorama delle Dolomiti costituiscono l'ideale cornice dell'Hotel Rosa.

Alla sua invidiabile posizione si aggiungono il comfort, l'atmosfera cordiale ed accogliente, una cucina raffinata, ricca di prelibati piatti nostrani e nazionali. Al gusto degli arredamenti si accompagna un servizio attento e sollecito.

Le Camere: Le camere sono fornite di bagno/doccia/wc, telefono diretto, TV-SAT e in gran parte di balcone con vista panoramica.

Appartamenti: L'Hotel Rosa dispone inoltre di due appartamenti da 2 a 4 posti letto in una villetta ubicata nella splendida zona residenziale di Vigo di Fassa. Per informazioni e prenotazioni Vi preghiamo di contattare la direzione dell'hotel.

Cucina: Cucina raffinata, ricca di prelibati piatti nostrani e nazionali.

Servizi: L'hotel dispone di solarium/UVA, idromassaggio, sauna, bar, terrazza, giardino.

Escursioni: L'Hotel Rosa è ideale punto di partenza per entusiasmanti escursioni in un favoloso mondo alpino: Catinaccio, Sella, Pordoi, Marmolada, Latemar... A soli 150 m la funivia Vigo- Catinaccio e le piste di rientro Gardeccia e Ciampedie.




---
Dove siamo:

---
ROSA HOTEL
Location: The Hotel Rosa is situated in Vigo di Fassa (about 4200 ft above sea level) surrounded by the magnificent Dolomites.

Apart from its enviable location the hotel offers comfortable rooms and lounges, a friendly atmosphere and excellent cuisine with local and Italian dishes. The hotel is furnished in very good taste and offers an excellent service.

Rooms: The rooms are all with bathroom with shower, direct-dial telephone, SAT-TV and most of them have a balcony with amazing views.

The Apartments: Hotel Rosa also has two apartments with 2-4 beds in a detached house situated in the residential neighbourhood of Vigo di Fassa. For information or booking we ask you to contact the management of the hotel.

Cuisine: Excellent cuisine with local and Italian dishes.

Services: The hotel also offers a hydro massage, sauna and solarium, bar, sun terrace, TV-room, non smoking lounge, ski room, lift, a big garden and an ample free parking.

Excursions: The Hotel Rosa is ideally situated as a starting point for excursions to the enchanting mountains around Vigo: Catinaccio, Sella, Pordoi, Marmolada, Latemar...The cable car Vigo-Catinaccio is only 450 yards away and the ski slopes of Gardeccia and Ciampedie bring you right back to the cable car station. Hotel Rosa is the perfect hotel for who wants an approach to nature and the mountains!




---
Where we are:

Hotel Rosa
Strada Rezia, 5, Vigo di Fassa, TN, Italy